space expo Volunteers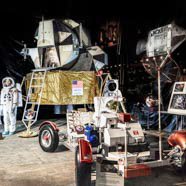 The Wreyford Family Foundation is looking for volunteers!

The Hill Country Space Expo is an all-volunteer event, we are looking for local supporters who can give a few hours to help crew our Space Expo on September 28th - 30th.

You do not have to be a "rocket scientist" to be involved, just bring your enthusiasm!

Young volunteers (16 or older) are welcomed - as a 501c3 organization, we meet the community service requirement for local schools.

For more information, please contact us at info@WreyfordFamilyFoundation.org
or (713) 419-9062.